The Questions That Changed My Life
I walked along the promenade of a little European town trying not to limp. My toe was swollen since I've hurt it few months ago trying to move the heavy chair closer to the fireplace. Walking was painful, but I kept going. I wore a long trendy elegant grey coat with less elegant big brown cowboy boots. The coat and the boots didn't match well, but at least I could walk. I left the coat unbuttoned, and when it was catching the gust of wind, people turned their heads. They first noticed the scarlet linen of the coat, then looked at my face and started smiling. 
Pain would be a great excuse to stay at the hotel. But I've chosen a walk. I always did. I got used to pushing myself out of my shell. While travelling on business or holidays, I noticed that the first day of my trips was always emotional. Coming to new places made me feel my solitude. 
Yet, suffering in the hotel room on my own, with aching soul and swollen toe was not a great perspective. I knew, that if I walk and smile, I would eventually feel better. I would see something or someone that would make my smile warm and sincere.
I kept moving and noticing that my sense of loneliness was getting smaller and smaller and finally surrendered to the sun, to the beauty of the town, its sandy beaches and warm smiles of its people.
I observed changes happening inside me, memorizing this very nice feeling. Building the "stock" of positive energy will help me facing my loneliness when it kicks in.
I continued walking and reflecting on the successful transition I've run for my client in the last 6 months. Challenges and victories, an enormous amount of information I worked with, learnings from people and events made me excited and happy. I was proud of the results I achieved, proud for my firm and for my team. I could not believe that just a year ago I was ready to turn down the idea of this assignment. "Over my dead body", was my instant answer when my boss told me our new client wants me to lead their transition. I loved my previous job, I enjoyed the vibrancy of the office where I was spending most of my time. It was my home, and the team was my family.  "Over my dead body", – I kept mumbling to myself for a couple of months contemplating the idea of moving to this new role.  Even so, my brain and my gut feeling were steering me towards new challenges.  
Recollecting the memories of the past year made me smile again. 
And here I am, managing operations in several EMEA countries, transforming service delivery models, identifying stakeholders, building client relationships, creating a new team, stretching and overstretching my comfort zone… 
Kind of enjoying it. I sighed. Kind of—because only one part of me, a "professional self" was functioning. The other one was frozen…After two personal tragedies, my personal life went on "autopilot". No hobbies, minimum interaction with my friends and even with my son and my parents, no savings…I was acting and thinking as if tomorrow never comes. 
My friends and family treated me gently doing their best to be around if and when I feel like talking. However I didn't engage in conversations.
When I was not traveling, I worked stupid hours and was coming back home so late, that my teenage son was sleeping by that time. Or pretended he was sleeping.
One of my closest schoolmates tried to persuade me talking to my son about the tragedies and the way we both feel about them. Yet we never did it—Alex and I were afraid that our talk will be even more painful than silence.
I caught my negative thoughts and sensed it was time to tap into my "stock" of positive feelings. I smiled, looked around and right away noticed gusts of wind, my flying coat, beautiful beach and warm smiles of strangers.
I don't know for how long that "one-sided functioning" would continue, if I hadn't seen The Big Boss next day at our regional meeting. He recognized me, and we jumped into lengthy conversation during one of the lunch breaks.
We talked a lot about transition, about interactions between the global, regional and local teams, about my job and career challenges, about our new client… Well—I talked. He listened. Then asked questions. And listened to the answers. Listened attentively, with curiosity.
So, I kept talking. And then he asked me how my life outside work is going. I replied that I "live as if tomorrow never comes", and returned to the business subject.
"Wait a moment", inquired The Big Boss. "What does that mean—live as if tomorrow never comes?"
I explained that I see no sense in building relationships, discovering other parts of the life (my purpose, my talents etc.), saving money, bonding with family and friends because "tomorrow never comes". Why bother if people are dying anyway, often unexpectedly. I told The Big Boss about the recent tragedies in my life which made me thinking and living that way.
He nodded with sympathy and then asked:
"What if tomorrow comes?"
"What do you mean?" I was really surprised how come he didn't get it.
He repeated:
"What. If. Tomorrow. Comes."
He paused and then continued:
"What if tomorrow comes, and you have no life outside work, no relationships, savings, hobbies, nothing?"
Some of my clients ask me what coaching is, what makes coaching sessions a life-transforming conversation, and how one question could change your life.  Here we go. 
I don't remember what was my answer to his question. I most likely was telling him rubbish, or I went silent. It's wiped out from my memory. 
But I almost physically heard the sound of cogs grinding slowly and loudly in my head. They were creaking terribly causing an unexpected discomfort.
Later on—when I studied professional coaching skills—I learned that it was a question challenging my limiting belief. In coaching, we call it "evoke awareness", "help the client explore beyond current thinking".  Needless to say that 10 years ago, I was far from knowing that, however, I experienced the power of the question.
This conversation with The Big Boss and his simple question "What if tomorrow comes" was a tipping point to me. A few months later I started noticing a real change in the way I think and act. 
I was constantly questioning myself:
what do I want to be doing if tomorrow comes?
who do I want to be with?
which people do I want to re-connect with?
whether I would like to find my soulmate and have long-lasting relationships with him,
how do I want to spend time with my family?
what do I want to spend money for and how much do I want to save?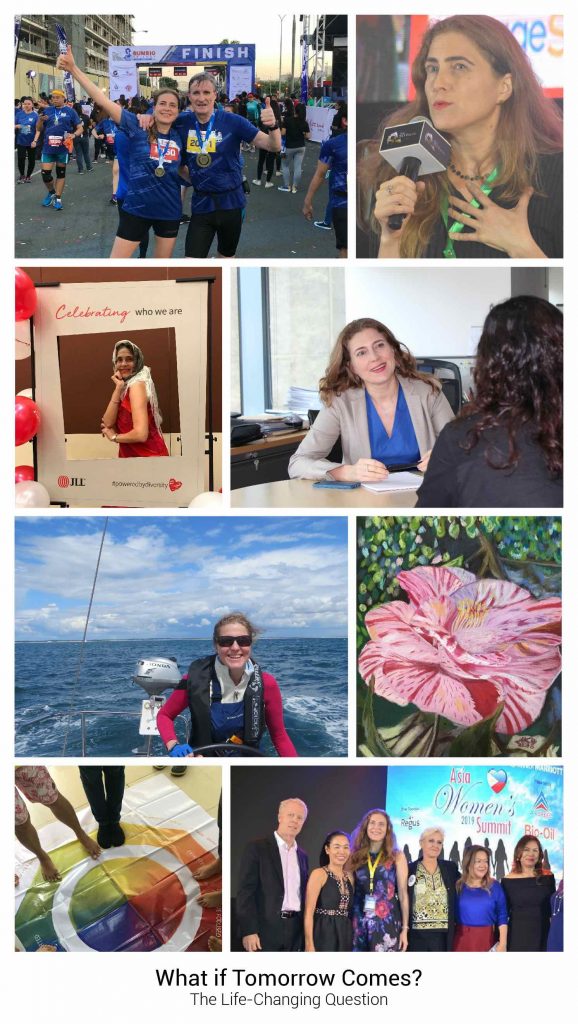 I started explore my talents, my aspirations, I allowed myself to dream again… 
The process of transformation was slow but very impactful. I bonded with my family and friends, began contributing to charity, sustainability and inclusion projects, qualified as licensed yachts skipper and started sailing, learned pastel painting, returned to exercising, became a certified professional coach. Most importantly, I met the partner of my dream and reconnected with my son. My son and I are talking again. In the beginning the conversations were fragmented and difficult, but now  we are discussing thoughts and feelings openly. I am happily married.
My career evolved faster, too. I soon expanded my role to a half of EMEA region, then moved to a global role on a new account, created and launched very impactful global programs. 
I then resigned from the multinational where I worked for 15 years, and dedicated my professional life to coaching.
When I look back to the conversation which has happened 10 years ago, I feel gratitude and joy. Yes, transformation takes time and is often a challenge, but it's worth investing in it. 
When is the last time you spoke to someone about things that matter? Do you remember a conversation which made a significant impact on you? A person who listened to you with curiosity and asked questions which changed your life?
If you feel ready to explore what your life-changing questions are – let me know.
Read here about individual coaching with Anna.
Follow me on LinkedIn, Pinterest, or Instagram.
Save these pins as an inspiration for later!